The Fuji x100 camera is meant to be carried around everywhere – and for that you need to use the straps supplied, or get yourself a case. ?The official leather case is nice, but I prefer something more discreet that I can carry on my belt under my jacket.
After looking at all the cases in all the photo shops in Melbourne I couldn't find anything that met my criteria. ?The case had to:
be as small as possible
easily attach to any belt – without having to thread the belt through anything etc.
have zips – I really wanted something secure so that the camera wouldn't fall out as I bent over etc.
I finally found the perfect case at a high end photographic shop in the suburbs – its a ThinkTank modular pouch: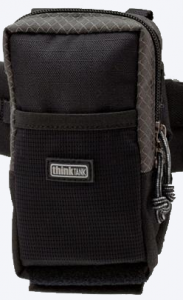 There is a tongue on the back of the case which attaches to your belt. ?One end of the tongue can be pulled away from the strong velcro underneath the case, slipped through any belt and re velcro'd in seconds. ?Neat, Fast, Flexible and Safe.
You can see how the Fuji x100 slips nicely into this case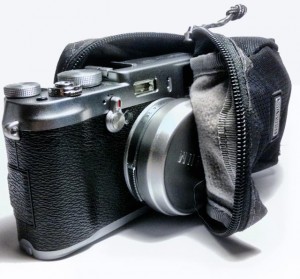 The front pouch is a handy place to put the lens cover for extended periods as I am walking around.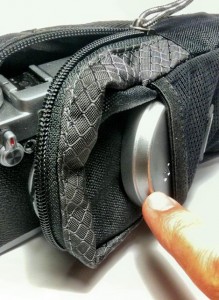 Often I slip the camera back into the case (the case is attached to my belt) without putting the lens cap on. ?What !! – you say? ?Well the inside of the case is soft and won't scratch the lens. ?And as it happens, the lens cap is still positioned approximately over the lens area – so the lens is still protected from accidental bumps. ?How fortuitous!
I bought it from Borges?in Australia. ?Here is the official?US supplier's page. ?A nice review of the case can be found?here?(though that particular review is not x100 specific).